Meeting from Clos Monopoles de Premeaux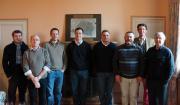 The domaines de l'Arlot, des Hospices de Nuits St Georges, Prieuré Roch, du Château de Chambolle Musigny, des Perdrix, et Michèle & Patrice Rion had a tasting together on the 17th November 2012 to show their respective Monopoles from 2008 and 2009 vintage..
So many Monopoles of such big size in a small area is very particular for Burgundy, and we have decided to understand why this is so. Historical aspects are investigated...
From South to North, the different Climats are Clos de la Maréchale, le Clos de l'Arlot, le Clos Saint Marc, le Clos des Grandes Vignes, le Clos des Corvées, les Perdrix, le Clos des Forêts St Georges, et les Didiers.
Read more details to get Bill Nanson's point of vue on http://www.burgundy-report.com/summer-2012/a-tasting-of-the-monopoles-of...
English